Many of the therapists at Novus Mindful Life Institute Family Counseling in Long Beach are Certified Sex Addiction Therapists.
Becoming A Certified Sex Addiction Therapist
To become a certified sex addiction therapist (CSAT) a marriage and family therapist or licensed clinical social worker must attend four weeklong intensive training classes. These classes focus on a task-centered approach to sex addiction treatment. Dr. Patrick Carnes, a leading researcher in the field of sex addiction, developed the task-centered approach to sex addiction treatment. The International Institute for Trauma and Addiction Professionals (IITAP) facilitates the training.

The treatment of sex addiction is a complicated process. Treatment professionals must take an entirely different approach to help individuals overcome sex addiction. Certified sex addiction therapist training provides a robust framework. This framework helps a therapist understand the issues and create a definite treatment plan. Often, sex addiction issues are not well addressed in regular counseling and many therapists may not have the clinical experience to deal with these complex problems.
The CSAT training program teaches therapists how to evaluate sex addiction correctly. This level of evaluation enables clinicians to understand the issues accurately. CSATs can complete a comprehensive assessment and recommend an appropriate level of care for each client.
The 30 task model of addiction treatment is the cornerstone of sex addiction treatment.  Dr. Patrick Carnes developed this model from his years of research and experience treating sex addiction. The 30 task model is a highly structured approach to sex addiction treatment. It is based on research completed with individuals who have received sex or pornography addiction treatment in the past and have overcome their addiction.
Many clients come to me several years into the process of trying to get recovery from sex addiction. They sit down and begin therapy with me. Often they report finally feeling understood. That I "got" the problem and could give them concrete steps to get better. The CSAT training was fundamental to me being able to help them.

Duane Osterlind. LMFT, CSAT
A certified sex addiction therapist is also required to complete 30 hours of supervision. This requirement helps a therapist grow as a clinician. Supervision helps them learn from the experience of other therapists who have worked longer in sex addiction treatment.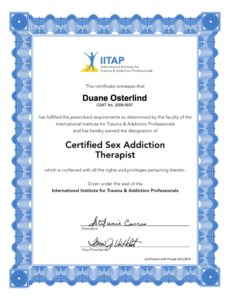 CSAT's can also treat spouses and partners who have suffered relational and betrayal trauma. With this training, they learn not only about helping the addict but about dealing with the injury created by the addiction in the partner and the family system.  This training allows CSAT's to also provide support to the spouses and partners with sensitivity.
Certified sex addiction therapists can deal with the subtleties of sex addiction treatment. Individuals coping with compulsive and addictive sexual behavior also struggle with underlying issues such as affect dysregulation and mood disorders.  Successful treatment and sex addiction is dependant on dealing with all of the underlying issues.
At Novus Mindful Life Institute Family Counseling and Recovery we treat the whole person. We take a holistic view.
If you are struggling with sex addiction, please give us a call. Our certified sex addiction therapists can help you get the best care possible. Call us today at 562-431-5100.